Allen & Heath XONE:S2
Source "Audiofanzine":
Allen and Heath nous présente la Xone:S2, sa nouvelle table 4 unités au format rack 19'' à destination des DJ's disponibles avec des VCA linéaires ou rotatifs embarquant entre autres 4 canaux stéréo, une entrée pour 2 micros ou un appareil stéréo et une interface USB.
Designée pour les clubs avec son limiteur intégré permettant de maximiser le son de sortie, elle comprend aussi une alarme déclenchable manuellement qui coupe toutes les pistes et peut diffuser un message d'alerte.
La sortie principale se fait sur connectique XLR, il en est de même pour la sortie secondaire mono qui peut être utilisée pour alimenter un caisson de basse. Coté entrées, on note l'ajout d'une connectique rca en façade permettant l'ajout d'une source supplémentaire facilement, pratique lors de sets avec plusieurs DJ's où chacun désire apporter une machine pour son set.
Chaque piste est pourvue d'une égalisation à 3 bandes avec un boost de +6db et un point de coupure totale. Côté crossfader, on trouve un VCA de haute qualité avec une courbe de course ajustable.
La Xone:S2 est équipée du système maison Xone Filter qui permet de router chacune des pistes au filtre ainsi que router ce dernier vers un équipement externe. En prime, trois sorties casque avec une option de split du cue permettant d'entendre la préécoute dans l'oreille gauche et le mix dans la droite.
Une particularité de cette machine c'est la présence d'une interface audio USB permettant une intégration totale avec un ordinateur.
Disponible à partir de mars 2007, elle est annoncée au prix de 900£ (HT).
Source "Dj Resource":
The Xone:S2 is a new installation DJ mixer for use in clubs and bars, and by professional mobile DJ's. It is a 19" rack-mounted 4U mixer, available with either linear or rotary VCA channel faders, and features 4 stereo dual-input channels, 2 mono mic/stereo line channels, a USB audio interface, and boasts many features to both enhance the DJ's performance and aid the installer.
Xone:S2 represents the ideal package for club installers as it has a multitude of features designed to integrate it into a typical PA system. One of the key features is an output limiter system that enables the engineer to preset the maximum output level of the mixer, irrespective of input level.
The main mix outputs are on balanced XLR, and an additional mono output, also on XLR, can be used as a zone feed or can be used to feed a sub-bass stack. A dedicated alarm input mutes all music channels when active and there is also a dedicated alarm message audio input connection. An additional stereo input (RCA) is accessible on the front panel - enabling guest DJ's to patch in music sources without having to gain access to the rear connectors. Two high quality mono/mic or stereo channels are included, and there is a booth monitor and music ducking facility.
The Xone:S2 is offered with either linear or rotary faders, which are fitted on a removable panel making it is possible for venues to purchase the alternative panel and easily interchange between fader types without having to remove the unit from the rack, as required by the visiting DJ.
The Xone:S2 is equipped with many performance tools for DJ's. Each of the four main stereo channels is equipped with a flexible 3-band equalizer providing a safe +6dB of boost and total kill for complete frequency isolation. Individual channels can be routed to either side of the high-quality VCA crossfader with adjustable curve control for smooth constant level mixes or virtually instant attack suitable for scratching.
The Xone:S2 is also equipped with the legendary Xone filter system, allowing each of the four main channels to be individually routed to the filter. The filter can also be connected to outboard equipment, or can be patched into the mixer insert point for global filtering of the main mix. Three separate headphone sockets are provided, and a split cue allows the cue signal to be monitored in the left headphone and the main mix in the right.
Uniquely on a mixer of this type, the Xone:S2 is equipped with a USB audio interface enabling easy integration of digital media. The USB interface can be used for playback and recording to or from the Xone:S2 and a computer, or used with appropriate software to act as a hardware effects unit.
Andy Rigby-Jones, chief Xone designer, says, "We've learned so much from the development of our entire Xone range in the last few years, and we've listened to many club techs. They've asked us for more installer tools, like the limiters and duckers, but want the DJ's to have all the performance tools we've always given them. The result of all that is the Xone:S2, and it's the most feature-laden 19" DJ mixer available."
The Xone:S2 will be shipping in March 2007, with an approximate SRP of £900 (ex VAT).
Allen & Heath Xone:2D
Source "Dj Resource":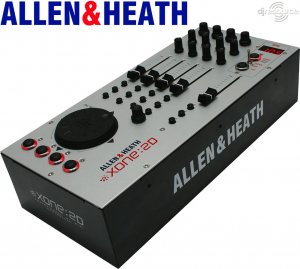 The Xone:2D is a follow-up product to the acclaimed Xone:3D mixer/controller. The Xone:2D is the combination of a 4 stereo channel USB soundcard and MIDI controller, which DJ's can connect to their existing analogue mixer to integrate leading DJ software such as Ableton Live and Traktor DJ Studio, and create a complete digital DJ mixing system.
The high quality USB soundcard can operate in either of two modes – stereo channels for 3 inputs from a PC and 1 return, or 2 channels from a PC and 2 returns. A large array of connections are provided to enable easy integration into any DJ set-up, and the 2D can be directly connected to turntables, CD players or linked to an external mixer. Digital IO (optical and coaxial) is also provided.
The Xone:3D BPM counter with LED display is included, which is capable of detecting a beat in music presented on the stereo BPM input. A MIDI clock generator, which can be set using the illuminated tap tempo button or sync'd to the tempo detected by the BPM counter, is provided, and features the unique MIDI clock nudge facility of the 3D.
The MIDI controller connects via USB to a computer and also has 5-pin DIN MIDI sockets for connection to any MIDI-enabled device, and features 5 60mm linear faders, 8 detented rotary pots, 19 push buttons - 4 of which are illuminated, 5 rotary encoders with "push to switch" function, and a multi-function jog wheel with switched navigation control. All the MIDI controls can be mapped for use as navigation controls for DJ or production software.
Optional attachment brackets to mechanically link the Xone:2D to other mixers in the A&H range, and overlays relating to various software programmes including Ableton Live 6 and Traktor DJ Studio 3, are available.
The Xone:2D will be shipping in March 2007, SRP £499 (ex VAT)
Numark Total Control
Source "Dj Resource":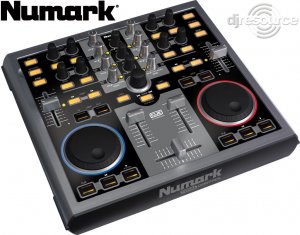 Professional DJ Software Controller: The missing link for software DJ's
A tabletop controller for DJs who yearn for the control they left behind when they switched from traditional mixers to the multi–processing power of laptop DJing. This fully class–compliant USB MIDI device is the ultimate for any performing computer DJ.
Total Control's 31 buttons, 20 knobs and 5 faders send MIDI data from the controller to your DJ software of choice, making the inconvenience of mouse or glide–pad software control a thing of the past. No assignment of software parameters for the Total Control is necessary – simply connect the controller to a computer with a USB cable, enable it on the user's computer's "config" menu, and watch the virtual controls respond to Total Control's actions.
The Total Control comes packaged with Numark's Cue LE and Native Instruments' Traktor LE software, with pre–mapped controls and overlay "skins" for both applications.
Features
Easy to learn mixer / CD player layout
USB bus powered (no adapter needed)
Kensington security slot to prevent theft
Cue and Traktor controller overlays included to help identify controls
Blank overlay included on reverse for custom mapping
Mac OSX and Windows XP class–compliant / No drivers needed
Korg DJ mixer Zero 4 and Zero 8
Source "Audiofanzine":
Korg annonce deux nouvelles tables de mixes surprenantes et compétitives.
Ces modèles travaillent à des résolutions allant de 44.1kHz à 192kHz en 24bit et proposent une nouvelle fonction de Multi-Patch préprogrammable par tranche.
La Zero 4 & Zero 8 sont équipées d'entrées phono (avec un préamplificateur de qualité), micro, ligne, guitare, sorties S/PDIF, interface Firewire, cette interface permet par exemple de traiter simultanément des sources audio en provenance de l'ordinateur, mais aussi de recevoir des informations MIDI.
Les préamplificateurs pour microphone sont signés Peter Watts, connu pour son travail chez Trident (marque de consoles professionnelle anglaise).
La Zero 4 possède 2 processeurs d'effets : 8 types d'Insert, et Master ainsi qu'un BPM pour synchroniser les échantillons.
La Zero 8 possède 8 voies et offre 3 processeurs d'effets : 8 types d'Insert, Send et 11 types de Master, contrôlables via le pavé tactile.
La série Zero est fournie avec un logiciel d'édition et celui-ci permet l'attribution rapide des paramètres MIDI pour les potentiomètres, boutons de fonction, pad X-Y etc. Sur la Zero 4 vous pouvez assigner jusqu'à 32 potentiomètres, 4 switches, 12 boutons et 4 potentiomètres linéaires.
L'originalité de cette série est la configuration multipatch préprogrammable pour chacune des tranches et visualisable par une couleur des zones de potentiomètres au travers de chaque tranche de la console. En conséquence, à tout moment, vous pouvez changer la configuration d'une tranche en temps réel (type d'entrée, réglage des égaliseurs, volume, etc.) à l'aide du sélecteur Input.
Tout cela devrait sortir en mai 2007, prix non annoncé.
Source "Dj Resource":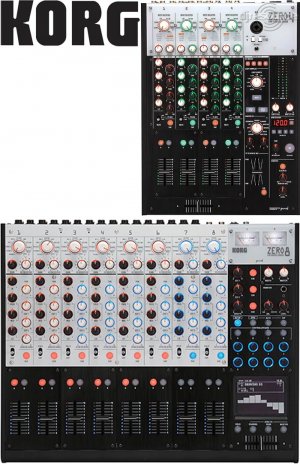 ZERO LIVE CONTROL MIXER is an all-in-one "core station" designed for live performance artists, remix producers, and serious computer musicians providing a digital mixer, audio I/O, MIDI controller, and effect processor all in a single unit.
Each channel can be switched between sources such as a turntable, CD player, microphone, computer, instrument, MIDI controller, or MIDI controller + audio to implement a sophisticated live mixing setup with the simplicity of a FireWire connection. This gives you an incredibly powerful and flexible tool designed specifically for live performance and remix production.
Two models are available: ZERO4 is a four-channel version designed for the needs of the modern DJ, and ZERO8 is an eight-channel version covering the needs of advanced laptop musicians, studio remixers and DJs requiring more channels.
Designed for high-quality digital and analog audio
ZERO LIVE CONTROL MIXER delivers truly professional-spec audio. It supports 24-bit 48 kHz high-resolution audio as standard, and can support up to 24-bit 192 kHz audio that's equivalent to DVD audio fidelity. Along with the digital domain, analog components such as the input/output circuitry and power supply have been designed with painstaking attention to high-quality sound. The internal power supply design delivers plenty of headroom and excellent audio quality.
The mic preamps are an ultra-low impedance design by Peter Watts, a veteran designer of numerous professional mixers throughout his tenure at the Trident Corporation in the UK and as chief designer and vice president for product development at Mackie Designs in the USA. Finally, the power supply is a universal design that does not require an AC adapter, ensuring that the world-traveling professional can get to work immediately, assured of the highest level of performance.
EQ Variety
The EQ Selector is a completely new idea, providing an EQ section with eleven different simulation types. They cover needs ranging from corrective equalization to boldly creative sound-shaping, giving you a variety of EQ responses and curves, filter characteristics, and even isolator modeling that can be switched independently for each channel as needed. The stereo four-channel ZERO4 provides one unit that is shared by all channels.
FireWire control over audio and MIDI
ZERO LIVE CONTROL MIXER contains a FireWire interface that lets you process and mix audio sources digitally, at the same time as performing MIDI control. Since ZERO LIVE CONTROL MIXER contains everything else you need (audio interface, mixer, effect processor, MIDI controller), setup is simple, making it an extremely convenient choice for the mobile computer-based professional.
A full complement of effects
One particular advantage of the ZERO series is its powerful effect system. On the stereo four-channel ZERO4, there are Insert effects for independent use on each channel, plus a Master effect connected to sampler/effect buss.
The ZERO4 also contains a loop sampler that can synchronize to the BPM. This makes it easy to sample or play back loops (or one-shot samples) in perfect time with the current tempo, giving you the flexibility for complex mixes or dub mixing.
Specifications
Power Supply AC Local Voltage
Power Consumption To be determined
Dimensions (wxdxh) 300 (W) x 402 (D) x 105 (H) mm
Weight 5.5 kg
Frequency Response 10 Hz ~ 20 kHz dB @ fs 44.1 kHz,
10 Hz ~ 22 kHz dB @ fs 48 kHz,
10 Hz ~ 44 kHz dB @ fs 96 kHz,
10 Hz ~ 88 kHz dB @ 192 kHz
Signal/Noise Ration 100dB
Distortion 0.02% THD
A/D Conversion 24-bit, 64-time oversampling
D/A Conversion 24-bit, 128-time oversampling
Input Impedance 10 k Ohms
Inputs
Phone Jacks 40k Ohms impedance
Mic Input XLR type connectors, 48V Phantom Power
10 k Ohms / -40 dBu @ GAIN = 0 dB
Guitar Input 1/4" Jack / -30 dBu @ GAIN = 0 dB
Outputs
Master XLR type connectors, 150 Ohms @ +4 dB
Booth 1/4" Jack / 150 Ohms @ +4dB
Phones 1/4" Jack / 100 Ohms
S/P DiFF coaxial, 24-bit
Firewire IEEE 1394 6-pin connector
MIDI DIN 5-pin connectors
Accessories power cable, CD-ROM
Korg mini Kaoss Pad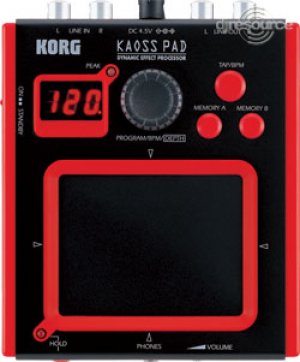 Source "Dj Resource":
Use the touch-pad to control the effects in realtime
The KAOSS PAD series lets you control the effect entirely from the touch-pad in realtime. Different effect parameters are assigned to the X-axis and Y-axis of the touch-pad and can be controlled simultaneously, meaning that you can vary the delay time and the feedback at the same time, or simultaneously change the cutoff and resonance of a filter. This means that complex effect operations that otherwise would require two hands on a conventional knob-based controller can be performed easily and intuitively with just one hand. It抯 also easy to apply complex effects by rubbing or tapping the pad with your fingertip as though you were playing a musical instrument.
A small size allows use in a variety of situations
The mini-KP features the smallest body in the KAOSS PAD series. It can be operated on batteries, and provides a strap attachment hole for easy portability. This means that you can now use the KAOSS PAD series' unique and intuitive one-finger operation with a wide range of instruments or sound sources, in an even greater variety of situations. Here are some examples:
DJ practice at home, or DJ performance in a club
Performance with synthesizers or other instruments (indoor or outdoor)
Listening to your portable audio player, or using your portable audio player to rehearse a DJ mix for a party (indoor or outdoor)
One hundred effects covering a variety of musical styles
The mini-KP contains a total of one hundred effects, many derived from the larger KP3, including filter, delay, and a looper, covering a wide range of musical styles. There is a "low/high-band pass filter" that lets you cut specific frequency ranges of sound to add variety to a song, a "decimator" that intentionally degrades the audio quality of the input to give unique impact to the sound, a much-requested "delay & reverb" combination effect, a "looper & pitch shifter" that captures and repeats incoming audio, retuning it in real-time as the pad is manipulated, synth sounds derived from the KP3 and many more effects that can dramatically transform the sound.
"BPM effects," and a "FX RELEASE" function
Those are for natural-sounding effect transitions within a song. You can use the "TAP/BPM button" to detect the BPM (tempo) and synchronize the mini-KP to an audio input source, and then take advantage of the many BPM effects that are synchronized to your song or performance. There is also an "FX RELEASE" function that lets the effect sound decay gradually when you remove your finger from the pad or change effects. This makes it easy to blend the mini-KP its effects into your performances and songs.
"Hold" function and memory keys
The "Hold" function lets you fix the effect settings at a given moment, and memory keys that remember your favorite settings. When you are touching the pad to apply an effect, you can use the "Hold" function to "freeze" the effect settings at any desired point. There is also a Memory Key function that lets you memorize the selected effect program, the Hold function on/off status, and the effect depth. This lets you store your favorite effect settings for instant recall anytime, so you can boldly use effects to transform the character of your songs or performances.
Features
Intuitive touch-pad interface gives you fingertip effect control in real-time.
The smallest body in the KAOSS PAD series.
Battery operation and a carrying strap make it an ideal choice for any scene.
One hundred effects including filter, delay, and looper meet the needs of any musical style.
Numerous BPM effects are provided. You can use the "TAP/BPM button" to synchronize the mini-KP to your song tempo, and apply a wide range of effects to your music.
"FX RELEASE" function provides a natural decay when changing effects or removing your finger from the pad.
Hold function lets you memorize the position at which you touched the touch-pad when you release your finger.
Use the two memory keys A and B to store your favorite effect program settings, including the effect depth and the Hold on/off status.
M-Audio Torq Xponent
Source "Audiofanzine":
Torq Xponent de M-Audio est une surface de contrôle pour DJ intégrant une interface audio USB et une multitude de contrôleurs librement assignables, dont un touchpad.
Le pack inclut le logiciel Torq DJ et les contrôles tactiles de la boîte sont facilement assignables grâce à la fonction MIDI Learn intégrée. Le système tout intégré combine les caractéristiques d'une table de mixage pour DJ standard et vous laisse la possibilité de caler vos fichiers numériques, de mixer et de scratcher sans toucher votre ordinateur.
Côté interface audio, la Torq Xponent travaille en 16 bits / 48 kHz avec une compatibilité ASIO et Core Audio, et propose 4 sorties RCA ainsi qu'une sortie casque sur Jack 6,35 avec contrôle du volume.
Les contrôles du mixeur sont les suivants :
2 faders verticaux pour le contrôle du volume.
2 potards pour contrôler l'EQ 3-bandes ainsi que des boutons 'kill'.
2 potards de gain avec boutons Mute.
Crossfader horizontal avec boutons Transform.
2 vu-mètres de volume à LED.
Et voici, pour finir, la liste des contrôleurs dédiés aux lecteurs :
2 molettes pour le scratch.
2 faders de 100mm pour l'ajustement du pitch.
Touchpad X/Y utilisable pour la souris ou le contrôle d'un effet.
8 potars assignables au contrôle d'effets.
64 boutons rétro-éclairés assignables dont Play, Cue, Seek, Loop, Key & Sync.
2 barres de LED indiquant la progression dans le morceau.
Behringer BCD3000
Source "Audiofanzine":
Behringer présente de nombreux nouveaux produits à l'occasion du Winter NAMM 2006, comme cette BCD3000, une interface audio pour DJ qui prend la relève de la BCD2000 et devrait sortir dans le courant du deuxième trimestre 2007.
Annoncée à 262 € TTC, la belle ne semble pas beaucoup différer de sa grande soeur, si ce n'est par son bundle logiciel : c'est désormais le logiciel Traktor 3 LE de Native Instruments qui se voit livré avec l'interface. Pour le reste, voici ses caractéristique :
Compatible avec les fichiers MP3, AAC, WMA, OGG, WAV et AIFF.
Logiciel Traktor 3 LE de Native Instruments inclus, avec fonctions d'importation iTunes et intégration à la boutique en ligne Beatport, en plus de logiciels d'enregistrement et de podcasting
Interface audio USB à 4 canaux avec convertisseurs 24 bits.
Compatible Windows XP et Mac OS X
Double lecteur, console, effets, 2 préamplis phono et section d'écoute.
2 molettes Jog Wheel pour le contrôle des fonctions DJ standard (scratch, pitch bend et cue search).
Contrôle de chaque canal par égaliseur Kill 3 bandes, touches Loop, faders Pitch et Level plus crossfader.
Préampli micro interne avec fonction Talkover.
Commandes dédiées pour les fonctions Play, Cue, Loop, Pitch Bend, Search ainsi que pour les effets.